War Remembrance in Linton
World War I
Linton's death toll from the First World War was 16 men either killed in action or died of wounds out of a total of 108 enlisted, representing almost fifteen per cent of those who volunteered. This figure is based on the number listed on the Linton War Memorial erected in 2003, which was arrived at by a decision of the Linton and District Historical Society to avoid exclusion and include all men who had been born, gone to school, worked, or at any time lived in Linton (and even the surrounding district).
This total is considerably larger than that in Linton's two (now out of print) written histories (where the total is 84) and the official one in the National Archives. The latter lists 56 World War I veterans as being born in Linton (including a woman who joined as a nurse), but who did not necessarily enlist there, and thirteen who enlisted from Linton (but were not necessarily born there).
For the official list of people who enlisted in Linton, see NAA, Mapping Our Anzacs.
Since the death toll nationally was almost eighteen per cent, based on a national total of 58,132 dead out of 330,000 who served overseas, Linton's loss was proportionate with that of the nation's as a whole. Many other soldiers returned home injured and traumatised. How they coped after the war is a story that was not often discussed.
WWI War Memorial and Honour Boards
Before the end of the First World War, there were several Honour Boards hanging in public buildings in Linton displaying the names of local men who had enlisted. The State school had one commemorating ex-pupils who had enlisted, and each church had one.
On Christmas Day 1917, at a well-attended ceremony in the Parish Hall, the Old Lintonians Association had unveiled a 'Roll of Honour', a four feet square wooden board with names engraved in gilt letters. In this respect, Linton was typical of towns and cities throughout Australia from as early as 1915.
These Honour Rolls were not intended just to commemorate those men who went to the war, but to encourage others to follow those named, at a time when debates were raging as to whether or not Australia should introduce conscription to swell the ranks of a depleted volunteer force overseas.
Avenue of Honour
Similarly, an Avenue of Honour was initiated by a group of enthusiastic locals in February 1918, following a regional trend - all the surrounding towns also planted honour avenues, perhaps emulating Ballarat, which by 1918, was committed to nearly 4000 trees, each with a plaque bearing a soldier's name.
Linton's Avenue of 100 alternating oaks and elms was planted not in the main street however, as many avenues were, but in Denison Street, on either side of the entrance to the town from the railway station, on 6 July 1918, with all material and labour supplied by volunteers. Tree guards and plaques were added later.
At the time the area near the railway station was a busy thoroughfare, but as time went by, it became increasingly peripheral to the life of the town with the growth in motor traffic. At some stage (no one can now remember exactly when) most of the elm trees and all of the name plaques were removed, and the latter were, unfortunately, lost. With the closure of the railway to passenger trains in 1976, the avenue's fate as being merely a leafy country lane was sealed, and the story behind its planting faded from memory.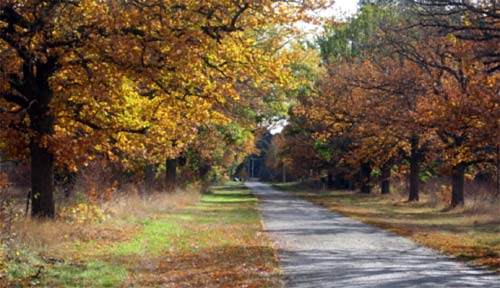 Avenue of Honour, Denison Street, Linton, 2008.
There are now, in 2012, forty-five mature oaks still standing in Denison Street. In 2009, the Linton and District Historical Society erected a memorial in Denison Street commemorating the 90th anniversary of the planting of the Avenue.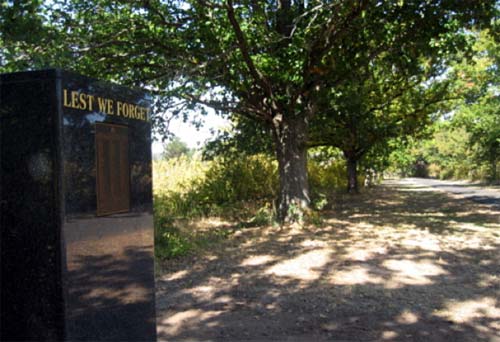 Monument commemorating the 90th anniversary of the Avenue of Honour,
Denison Street, Linton, 2009. Unveiled on Anzac Day, 2009.
World War II
In Linton and district the official total of deaths in the Second World War was seven, which represents nearly six per cent of those who enlisted, fewer proportionately than in World War I. This is again similar to the national figure, where the death toll (including accidents and illnesses while on active service) was 39,000 out of 550,000 served overseas, which is about 7 per cent.
However, as with the mobilisation of the Australian population overall, more locals served than in the First World War (and they now included women). The national statistics were: 550,000 men and women, or one in twelve of the population of over seven million, served in the armed forces overseas. In Linton, 122 names eventually appeared on the war memorial built in 2003.
Of the seven men who died, Ron Kirk and Spencer Grigg died in prisoner of war camps in Singapore (Changi) and Thailand respectively; Samuel Clark and Cyril Hearn were killed in action in Crete; Henry Smith in a dogfight over Germany; Mervyn Howell in Borneo, and H.P. Wishart was accidentally killed in England. Five other men who survived and returned had been prisoners of war in Singapore and Thailand, making a total of seven Linton men imprisoned by the Japanese.
These statistics again reflect the national picture. Over 30,000 Australians were taken prisoner during the war years, predominantly by the Japanese in South-east Asia, with 8,296 dying in captivity, representing at least 21 per cent of all Australian deaths in the war. In comparison, the First World War figure was 0.7 per cent.
After the Second World War, another Honour Board was prepared listing those from Linton who served, now including Navy and Air Force personnel and four women, a total of 84 locals. No War memorial was built, however, which again reflected the mood of the country, which was overwhelmingly against the building of further memorials not regarded as useful.
Commemoration generally took the form of more functional structures, such as hospitals and sporting facilities, rather than statues, columns and obelisks, and the names of participating soldiers were more often than not accommodated on existing memorials.
It was probably also relevant that Linton's population, as in many country towns after the war, had dropped significantly as part of a general migration to the cities. In 1939, according to the Victorian Municipal Directory and Gazetteer for 1939, it had been 650 and by 1945, it had halved to 320 people.
Erection of Linton War Memorial 2003
On Anzac Day 2003, a granite memorial bearing the names of 231 local men and women who enlisted in the first and second World Wars (and including two who enlisted in the Boer war) was unveiled in Sussex Street, Linton. Almost four hundred people attended the ceremony, including thirteen ex-servicemen and women who were listed on the memorial.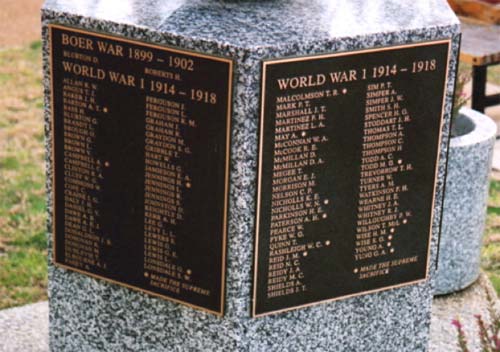 Detail of War memorial, Sussex Street, Linton.
Dedicated Anzac Day, 2003.
This project was the culmination of years of research and planning by the Linton and District Historical Society, with funding from Federal, State and local government and donations from the public.
To coincide with the Anzac Day ceremony, the Historical Society undertook the first formal research into the war experiences of some of the local servicemen who had been killed or taken prisoners of war, resulting in the mounting of a number of photographs and brief biographies, which are now on permanent display in our historic town library.
Anzac Day
Since the disbanding of a Linton branch of the RSL in the 1980s, local Anzac Day commemorations have in recent years been organised by Linton State School. Because the ceremony has largely been for the local school children, these events do not usually take place on Anzac Day, which is a public holiday, but usually during the few days before or after 25 April. They are, however, well attended by the local community.