Our Collection & Research Fees
Our Collection
The sorts of records we hold include:
Photographs – of individuals, family groups, social gatherings, town events, school groups, buildings and streetscapes, etc. Many of these are copies from originals lent by the public; in some cases, unfortunately, the subjects and/or the donors are unidentified.
Files on individual families – these largely reflect the amount of information supplied by family members, so if none has been given to the Society, then we probably will not have a file for them. However, when we get an inquiry about a family where there is no file, we can begin a file, so that it is there if we get another query or we subsequently find further information.
School enrolments books – these are not comprehensive (not all have survived).
Sunday school enrolments – again, we only have a few that have survived.
Town maps
Lists of Anglican and Catholic marriages
Hard copies of Grenville Standard newspapers 1895-1900
A cemetery index
Council ledgers
Plus an assortment of records of Friendly Societies, ratepayers' lists, the Old Lintonians Association, etc. We also have a variety of memorabilia large and small. [Much of the above are not yet in our computer catalogue so to find the names of individuals amongst them requires patience!].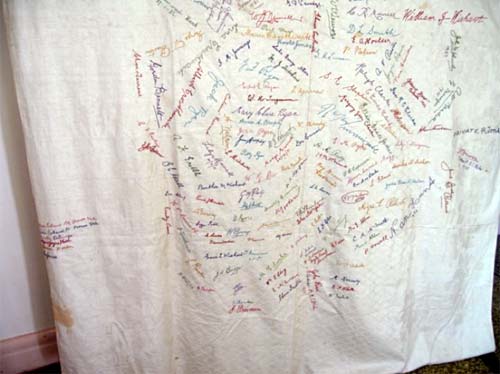 One of the more unusual and valuable items in our collection, a tablecloth with embroidered signatures of townsfolk in the 1930s-1940s.
Research Fees
Members of the public are welcome to attend the Resource Centre on Open Days and undertake personal research with assistance from Society members free of charge.
We are also happy to undertake research for those unable to visit our Resource Centre. However, since we are all volunteers, we ask for a $30 donation in these instances, as the time taken for such research is often quite extensive.
The Society has a schedule of costs for the copying of documents and photographs.